Holiday Spice Gift Box (4-Pack Spice Kits)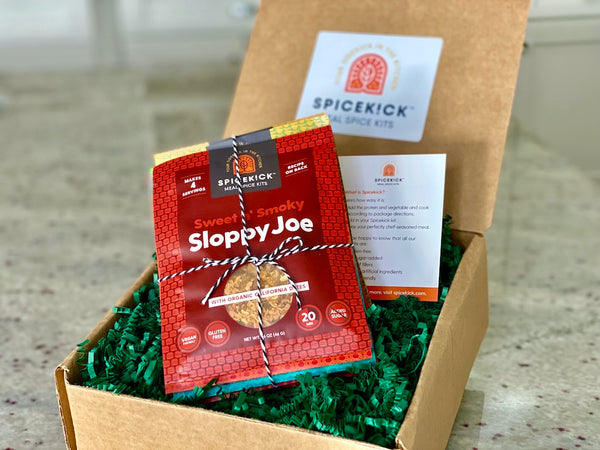 This heart-warming gift box features our four top-selling spice kits for making healthy, homemade 20-minute or slow cooker meals.
Simply follow the recipes on the back and add your own protein, veg, and Spicekick Seasoning Mix. Contained in brown box, with hand tied bow, a pine cone, and faux holly branch.
FREE SHIPPING ON THIS ITEM!
Flavors include:
Stir-Fry Lettuce Wrap Seasoning Mix (1.5 oz)
Sloppy Joe Seasoning (1.5 oz)
Taco Seasoning Mix (1.5 oz)
Chili Seasoning Mix (2 oz)
All of our spice kits are:
Gluten-free
No added sugar
Vegan-friendly
No artificial colors
No preservatives
Sodium-conscious
Most are low-carb and keto-friendly
To include a custom handwritten note, email us immediately after placing your order at michelle@spicekick.com. Otherwise, we will include the following note:
Happy Holidays, <recipient name>!
Warmly,
<sender name>
Orders fulfilled the next business day and shipped 2 or 3-Day Priority Mail or UPS.
Net weight: 14 oz
Dimensions: 8 x 8 x 3 inches