Holiday Spice Gift Box (8-Pack Spice Kits)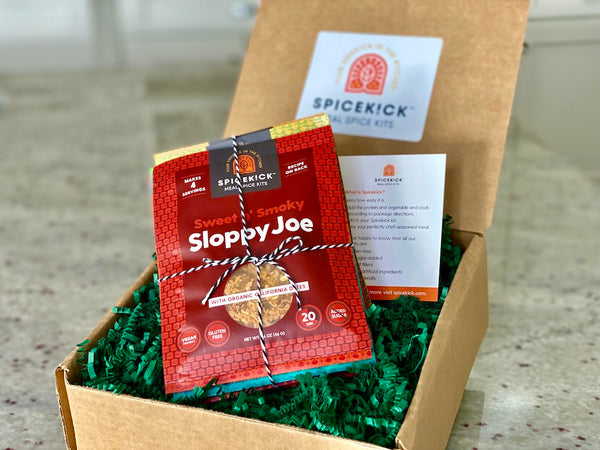 This heart-warming gift box features our eight top-selling spice kits for making healthy, homemade 20-minute or slow cooker meals.
Simply follow the recipes on the back and add your own protein, veg, and Spicekick Seasoning Mix. Contained in brown box, with hand tied bow, a pine cone, and faux holly branch.
FREE SHIPPING ON THIS ITEM!
Flavors include:
Stir-Fry Lettuce Wrap (1.5 oz)
Sloppy Joe (1.5 oz)
Tuna Salad (.3 oz)
Taco (1.5 oz)
Chili (2 oz)
Marinara (.5 oz)
Curry (1 oz)
Tikka Masala (1.4 oz)
All of our spice kits are:
Gluten-free
No added sugar
Vegan-friendly
No artificial colors
No preservatives
Sodium-conscious
Most are low-carb and keto-friendly
To include a custom handwritten note, email us immediately after placing your order at michelle@spicekick.com. Otherwise, we will include the following note:
Happy Holidays, <recipient name>!
Warmly,
<sender name>
Orders fulfilled the next business day and shipped 2 or 3-Day Priority Mail or UPS.
Net weight: 1 lb 2 oz
Dimensions: 8 x 8 x 3 inches